Count Update: 275 / 400
For every good photo I take, ten more are terrible. So let's use some of them and play a game. Each of the 21 numbered photos below has an animal in it there somewhere. Can you find the critter, and identify it? Find the answers are further below in the next set of photos with the corresponding number. There is prize money.
The Questions:
The Answers:
Here are the answers in numbered photos format with embedded comments. with the species name. Scroll to the right to advance to the next answer.
1. Black Skimmer feeding
Black Skimmers catch small fish by flying along with there lower bill dragging in the water. For real!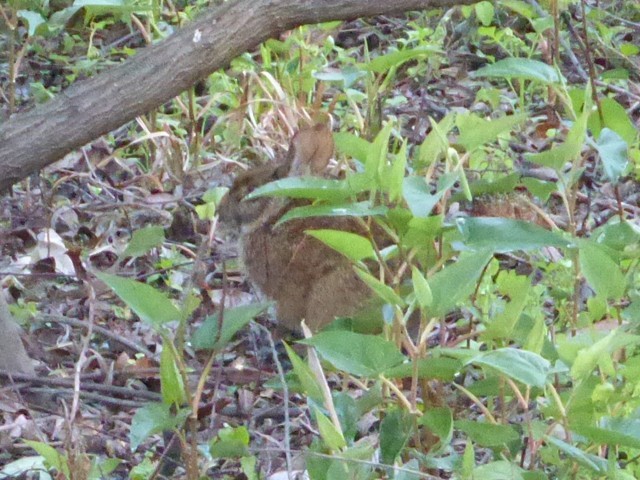 2. Eastern Cottontail
Look on the ground under he lowest right horizontal branch
3. Ruddy Turnstone
This shows how good camouflage can be. Only his bright leg and rear half are visible as he steps behind a barnacle covered rock.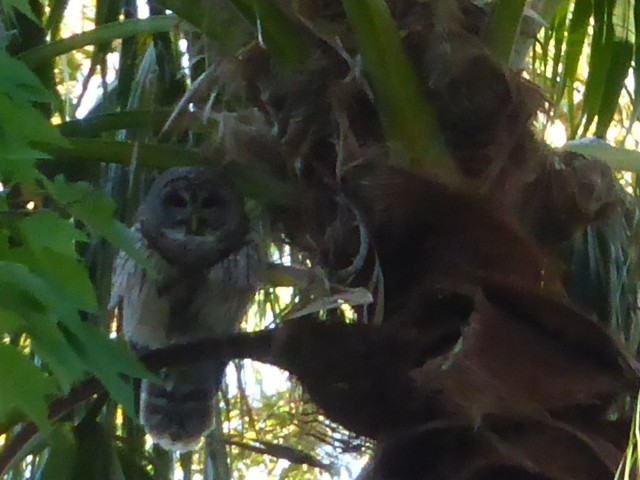 4. Barred Owl
Owls are masters at sitting quietly without being spotted all day. Under an overhanging palm tree is the perfect spot.
5. Brown Anole
Lower left on the sidewalk. These are small lizards that eat insects.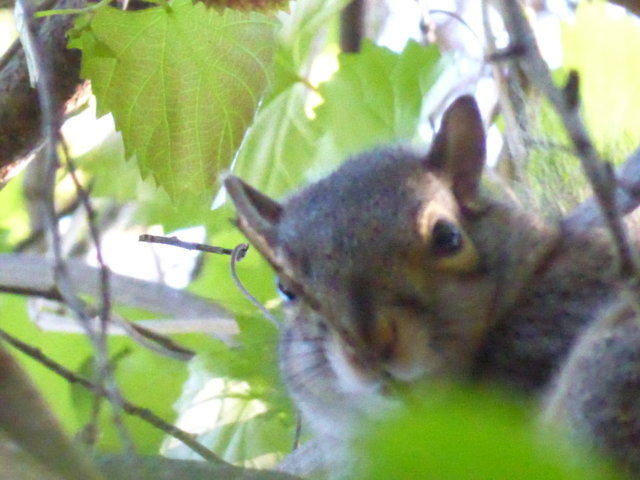 6. Squirrel
Center of photo, looking down at the camera.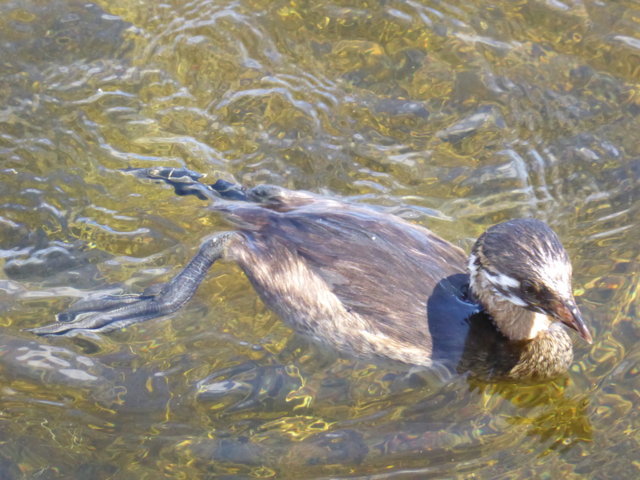 7. Pied-billed Grebe
The size of a small duck, they dive in shallow water powered by their feet for fish, snails, frogs etc. This one is swimming away form us in 1-2 feet of weedy marsh water.
8. Ruddy Turnstone ( again)
Perched on the dead bush in the forground.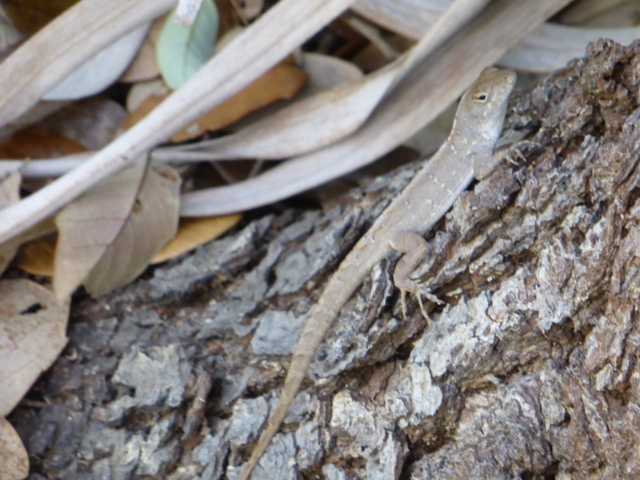 9. Brown Anola (again)
In the leaves, low center. These guys are super hard to see unless they move.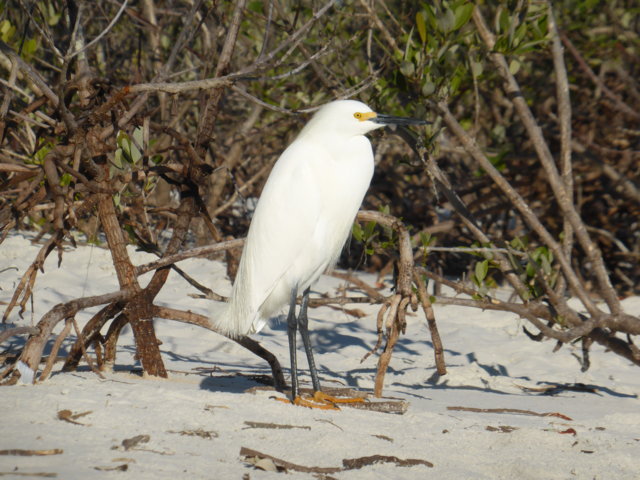 10. Snowy Egret
Center of photo on the sand. His shadow gives him away. Who ever thought a bright white 26" tall egret could blend in?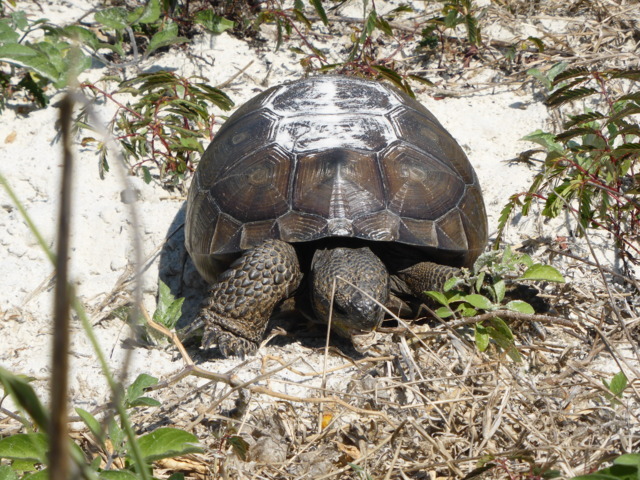 11. Gopher Tortoise
It's a close up of is front leg. Florida's only tortoise, this is NOT a turtle. The Gopher Tortoise lives on land, eats vegetation, and digs a burrow up to 40 feet long. They are a threaten species in FL.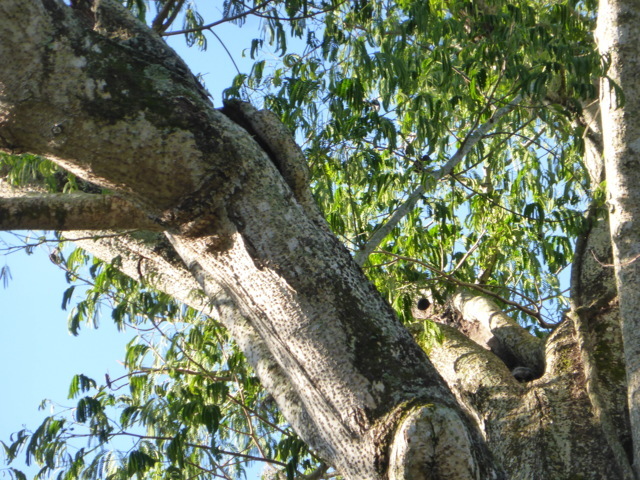 12. Barred Owl (owlet)
This baby owl is peeking out of the nest from the dark hollow high in a live oak tree.
13. Bottlenose Dolphin
They often come into brackish water as shallow as 2 feet deep and hunt for fish. I have seen several dolphins do this. Even chasing fish that jump high out of he water. You can paddle up quite close to them for a ring-side seat.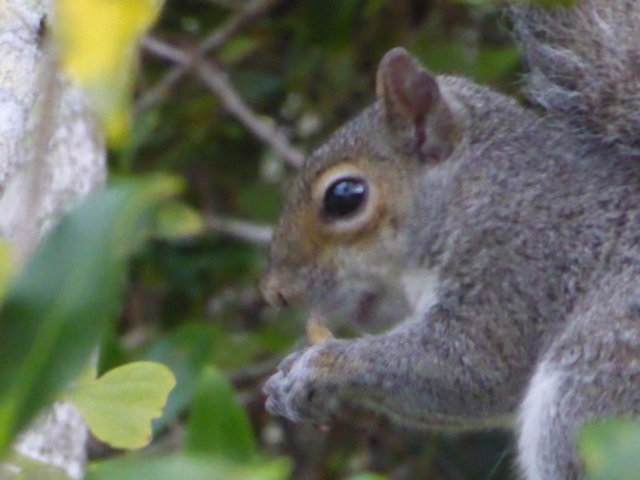 14. Squrriel (again)
On the rock next to the trash can.
15. Carolina Wren
Upper center, with tree trunk background. Carolina Wrens are common in southern forests. They sing loudly and often, but for some reason are hard to spot (at least for me they are).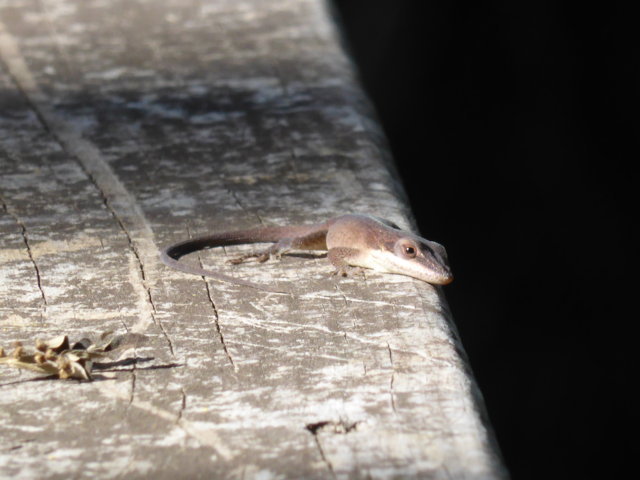 16. Brown Anole (again) or possibly a Crested Anole?
On the railing in the foreground. ID is hard on this one.
17. Great Blue Heron
Center right, perched high in a tree, silhouetted against sky.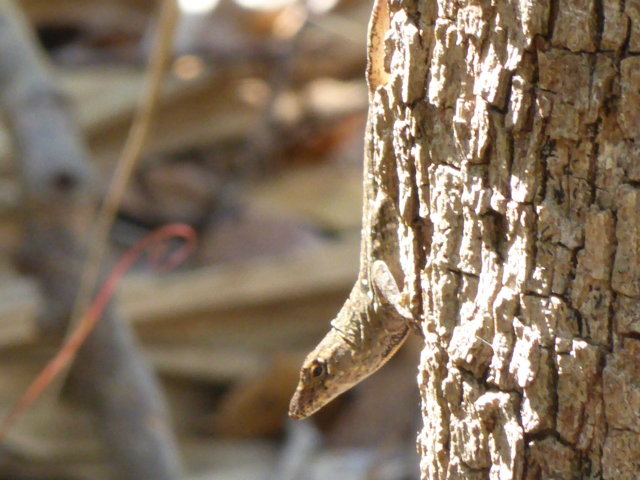 18. Brown Anole (yet again)
On tree. Last Anole, I promise. They are just too fun!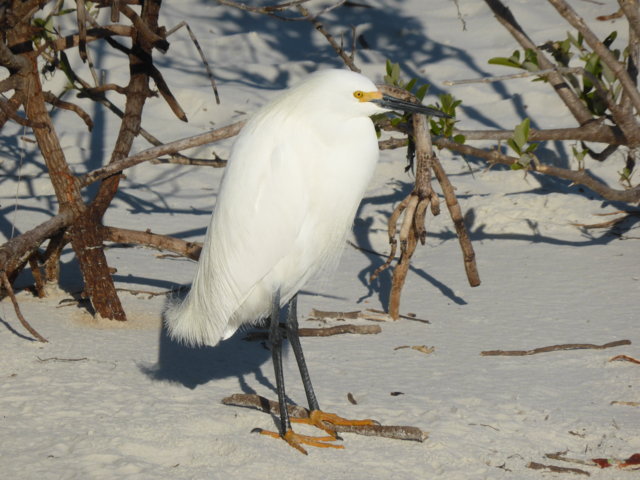 19. Snowy Egret (again)
See feet at top of photo. Snowy egrets are the only bird with black legs (front side) and yellow/orange feet. Some claim the bright feet attract curious smalll fish into the egrets striking range?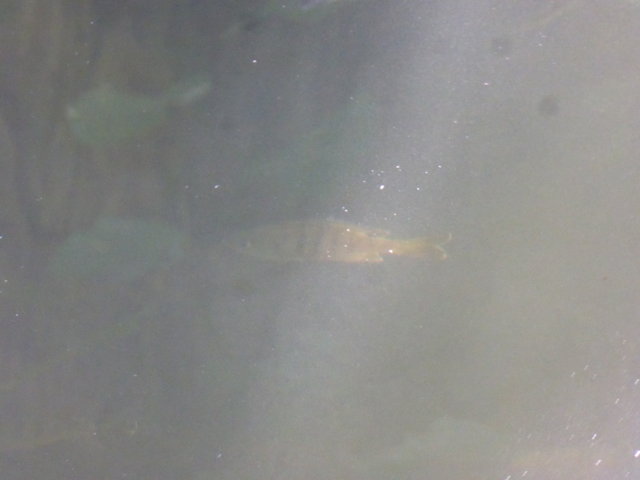 20. Sunfish
Lower left corner. This creek pond is actually full of them. But you can only see them in perfect glare-free sunlight.
21. Tyrannosaurus Rex
I warned you it was a trick! This botanical garden was a failed amusement park in the 1950's. A few of the cement dinosaurs still remain. Odd but quaint. I like that this botanical garden does not take itself to seriously.
How it you do? If you tried all 21 you have incredible patience. If you got half of them right you are a star. If you got them all right you're a bold faced liar. Nevertheless, for winning a charitable donation will be made in your name to the The Special Committee for the Conservation of Special Committees. Thanks for playing.