Count update: 248/400
We've landed in Ponce Inlet, a Daytona Beach suburb, on Florida's east coast. From here I've had several great local day birding trips.
Merit Island National Wildlife Refuge felt like old home. I've visited there in years past, but keep going back because the area is so large, has diverse habitat, and the birding is so good. This is the same island that Kennedy Space center is on and the SpaceX rockets are launched from. On this trip, I found a couple first of the year birds. These included the Florida Scrub Jay, which is classified as a threatened species, and Greater Black-backed Gull. With its 65" wingspan, this is the largest gull in the world.
Hal Scott Regional Preserve and Park – I visited this park for strategic reasons. Red-cockaded Woodpeckers are known to be here. This is another threatened species that can be hard to find. Two other common species are also there. Bachman's sparrow, and Bobwhite quail. All 3 of these birds are most active in the first hour of daylight, then seem to melt into the vegetation the rest of the day. So I got up a 4 am and walked the foot trail 2-3 miles out to the best spot in the dark. It was an immensely pleasurable walk in the still, silent warm air. I concentrated to hear distant owls all the way out, with no luck. Before the sun even peaked through the scattered tall pines, I got the sparrow and the quail. I continued walking the long trail farther into this 9,387-acre preserve. Soon I heard a woodpecker tapping gently nearby. I approached quietly and scanned frantically with my binos. This could be my only chance! Then just like the climax of a suspenseful movie it appeared… except… wrong bird. It was the ever common Downy Woodpecker. Needing to get back to our rented condo by a certain time, I knew I could only walk 10 minutes further before I absolutely, positively had to turn around and start the long hike back to the car. So I walked 15 minutes farther in. In the nick of time, I spot movement on a distant mature pine tree trunk, snapped the binos to my face, and there it was…..the Red-Cockaded woodpecker…. in profile with its white cheek in full view. Bingo! Then on my brisk walk back a Barred Owl volunteered to sing out loud. Who ever said that birding was not the most exciting sport ever?!!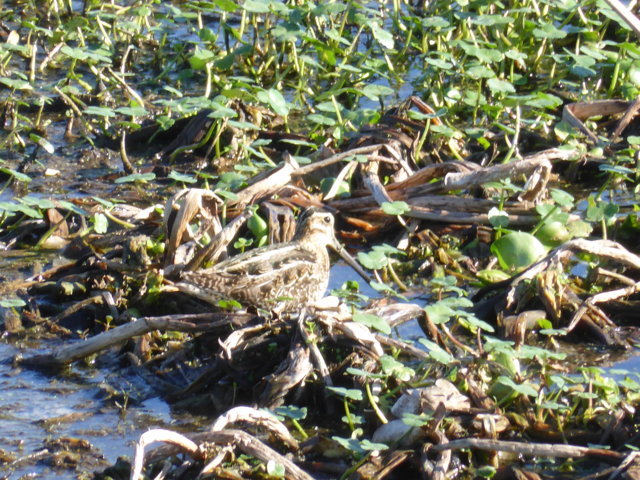 Jim is attempting to find and identify 400 different species of birds in the USA in 2018.